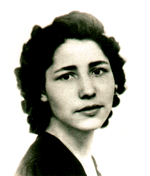 Priscilla A. Montoya's parents, Marcellino and Miquelita Abeyta moved to Alameda, New Mexico in 1900. Priscilla, a sixth generation New Mexico native, was born in Alameda in 1918 and lived there until her death in 1995. She was raised in a family where education was valued and encouraged. In 1933, when most women only completed the eighth grade, Priscilla made plans to attend the only high school in the area. There were no school buses, or public transportation in Alameda and the only way for Priscilla to attend high school in Albuquerque was for her to work for room and board in the city. Priscilla attended Albuquerque High School, played on the basketball team, excelled in academics and graduated in 1936. She continued her education at the Western School for Private Secretaries. Priscilla married Tomas Montoya in 1940 and worked until he returned from the war. After raising six children, Priscilla returned to work and retired from the Internal Revenue Service in 1978.

Priscilla was very active and believed in giving back to the community. She participated in the NM Extension Service, Alameda Lions Club, American Legion and the Nativity of the Blessed Virgin Mary Alter and Rosary Society. Priscilla was always open minded and generous with people less fortunate. She took pride in her family, her hobby of quilt making and her knowledge of always performing to the best of her ability.

Priscilla was a strong and humble person, always giving to family and others. She had a strong commitment to education and always encouraged personal achievement. She was resolute in her faith in God and it is in her name that we award the Priscilla A. Montoya Memorial Scholarship.